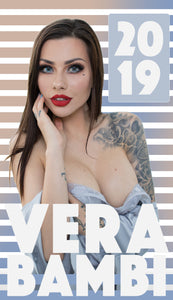 LARGE 10" X 17.5" OFFICIAL 2019 CALENDAR
For the first time ever, an annual tradition, the 2019 Calendar. That makes this a special item for fans, collectors and myself. I can't wait for you to have this in your hands to see and feel the efforts I put into ensuring a quality product for you! - xoxo Vera Bambi

The 2019 Vera Bambi Calendar features 14 pages of cosplay and glamour photography. 2 BONUS PAGES feature the month of January 2020 & a behind the scenes collage filled with gems for you to enjoy. Dating from January 2019 - January 2020, the pages are bound with wire, and include a loop for your hanging convenience.

From sexy lingerie and skillfully crafted costumes to heartwarming images certain to make you smile, this is a SUPER HOT MUST HAVE item for every Vera Bambi fan!

Every calendar will be signed by Vera.

Cover photography by Gaunted
Layout design by Vera Bambi